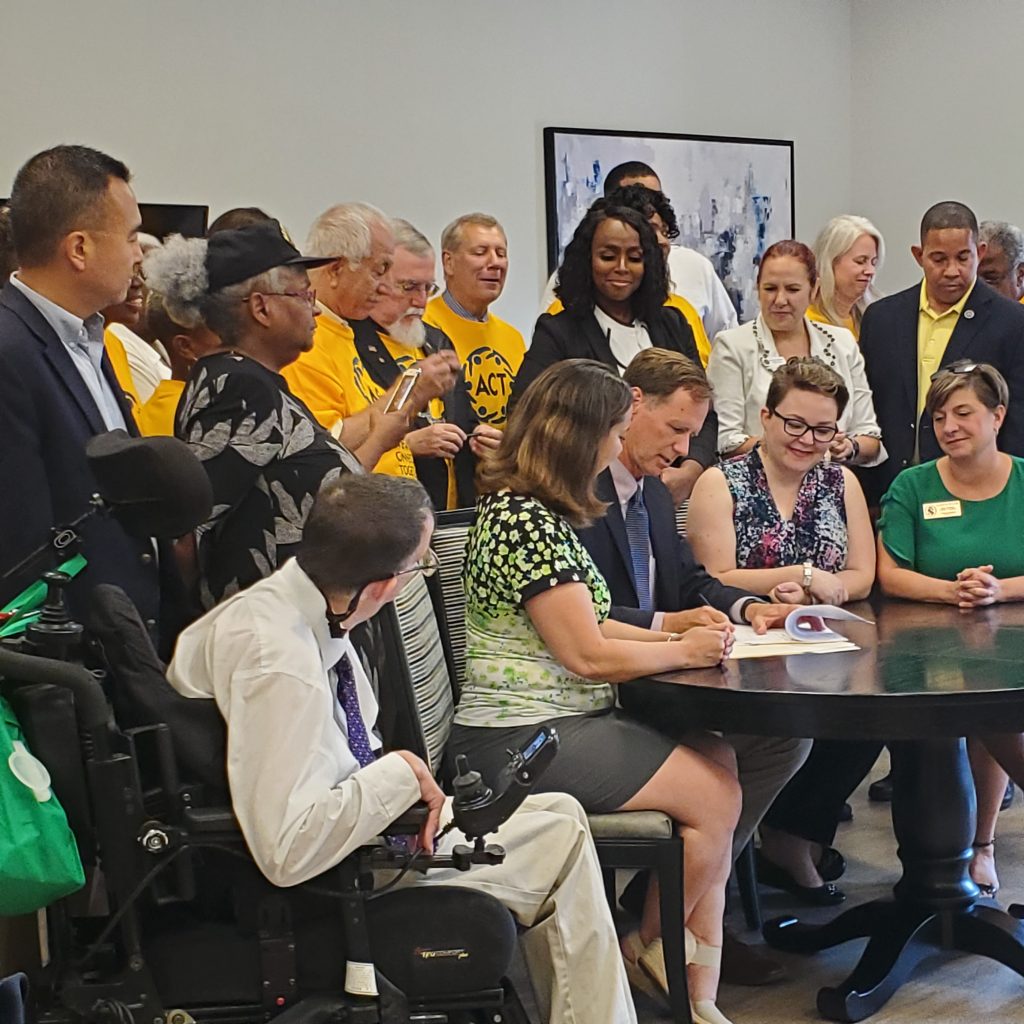 On September 12, 2019, County Executive Steuart Pittman signed a local fair housing ordinance, Bill 55-19, into law. Now, for the first time ever, Anne Arundel County will provide local fair housing protections against discrimination in the sale or rental of housing. The law includes protections for a person's source of income, citizenship and occupation, in addition to current federal and state protections for color, disability, familial status, gender identity or expression, marital status, national origin, race, religion, sex, and sexual orientation. He was flanked by local fair housing advocates and County Council members Sarah Lacey, Allison Pickard and Lisa Rodvien, who all co-sponsored the legislation with Council Chair Andrew Pruski. Mr. Pittman also signed into law Bill 57-19, which codifies the Anne Arundel County Human Relations Commission and allows for local enforcement of the new law.
"Anne Arundel County was the only county in the Baltimore Metropolitan Council's Regional Fair Housing Group without a local fair housing law," said County Executive Pittman. "We passed this law because it was long overdue and because it was the right thing to do." County Councilwoman Sarah Lacey reiterated comments she made while championing the bill during the County Council hearings, stating, "Housing is a right, it is a human right."
Mr. Pittman invited a number of fair housing stakeholders who advocated for these laws to join him at the bill signing celebration, including representatives and members of the following organizations: Arundel Connecting Together (ACT), Anne Arundel Chapter of the NAACP, Anne Arundel Affordable Housing Coalition, Anne Arundel Human Relations Commission, Disability Rights Maryland and local disability advocates, ACLU of Maryland, and Homeless Persons Representation Project. Delegates Mark Chang, Mike Rogers and Shaneka Henson were also in attendance.  The group also included representatives of Arundel Community Development Services, Inc. (ACDS), Office of Law, Department of Aging and Disabilities, and the Housing Commission of Anne Arundel County.
ACDS Executive Director Kathleen Koch, who advised the Pittman Administration on the bill said "We have been working for 20 years to enact a fair housing bill and are grateful for the Administration and Council's leadership to make it happen. This legislation makes Anne Arundel County a better, more compassionate place and will give people more fair opportunities to access housing."
"I am hopeful this legislation will give teeth to the Commission – which allows us to resolve fair housing complaints through both enforcement and mediation, where warranted. In the past, we had no authority to make violators sit at the table and work with us, and now this will encourage people to work toward fair housing solutions," said Michael Dye, Chair of the Human Relations Commission.
Lack of a local fair housing law has been cited as an impediment to fair housing in Anne Arundel County in the County's most recent fair housing plan, or Analysis of Impediments to Fair Housing [click here] and passing a local law is a great step toward reducing barriers to fair housing in Anne Arundel County.
If you or someone you know is experiencing discrimination in housing, please contact the Anne Arundel County Human Relations Commission at 410-222-1234.
Related Press:
https://acdsinc.org/wp-content/uploads/2019/10/Kathleen-Koch.Article.6.2019.pdf
https://acdsinc.org/wp-content/uploads/2019/10/Anne-Arundel-County-Council-passes-fair-housing-bill.Sept_.2019.pdf