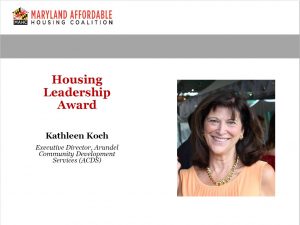 On Tuesday, October 19, 2021, the Maryland Affordable Housing Coalition honored ACDS Executive Director Kathleen Koch with their prestigious Leadership Award.  This award acknowledges an individual who has made both significant contributions to affordable rental housing in Maryland and worked to help advance the interest of the affordable rental housing community in Maryland through advocacy, participation in policy or program improvements, or other volunteer efforts that have benefited housing for low and moderate income persons.   The Maryland Affordable Housing Coalition is a statewide membership organization working to expand housing opportunities by increasing the supply of affordable, quality rental housing in Maryland through advocacy, education and collaboration.  Jessica Zunica, MAHC's Chair, provided the following remarks leading up to presentation of the award at MAHC's Annual Meeting:
"It seems fitting that we are honoring this person on the same day we are celebrating the 10th Anniversary of Rental Housing Works.  She was the long-time Legislative Chair for the Coalition at the start of Rental Housing Works and a strong advocate for its initial funding years.  You may also know her if you've ever done a project in Anne Arundel County in the last few decades. Kathy Koch is the Executive Director for Arundel Community Development Services, Inc., a nonprofit housing and community development agency established to create and retain affordable housing opportunities.  ACDS serves as Anne Arundel County's Housing and Community Development Agency responsible for planning and developing projects with public and private funds that serve the County's low and moderate income residents and communities.  Kathy has been there from the start of ACDS, shepherding the organization from an annual operating budget of 3 million dollars to over 20 million dollars.  Just last year we recognized Kathy's organization for its outstanding Eviction Prevention Program, which was the first in the state to begin helping households with rental assistance and housing counseling services at the outset of the pandemic.  She is also a past winner of the Housing Person of the Year award.  She's been a tireless advocate for affordable housing issues in Anne Arundel County and a key player in important local legislation to incentivize the creation of more affordable housing and to clear fair housing hurdles.
I've had the honor to work with Kathy as her successor to the Legislative Committee Chair role for MAHC, as a fellow board member in the Anne Arundel Affordable Housing Coalition, and as a developer working in Anne Arundel County.  In all of these roles I've seen Kathy's determination and dedication to affordable housing, no matter how positive or negative the political climate she was working in was for affordable housing.  Her creativity and thoughtfulness in how to address barriers to affordable housing are remarkable.  As a developer, what I've always appreciated most about her is she knows her County so well and she will tell you straight what your challenges are, but will also help you along the way if she can.  She's announced she will be retiring at the end of the year.  With her retirement Anne Arundel County and Maryland will be losing an important housing advocate.  Thank you, Kathy, for your lifetime of dedication to Maryland affordable housing.
I'm proud to present to [Kathy] the Housing Leadership Award."
Way to go Kathy!