Please join the Local Development Council (LDC) for our Community Input Night at the Severn Library on Wednesday, September 21, 2022 from 6:00pm – 8:00pm! 
As part of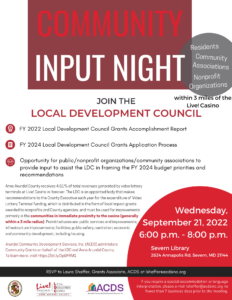 this meeting, the LDC will: (1) provide a presentation on FY 2022 accomplishments for projects/programs funded with Video Lottery Terminal (VLT) Community Grants; (2) describe the application process for FY 2024 funding; and (3) invite members of the community to provide public input on what needs they are seeing in the community to assist the LDC in framing its FY 2024 budget priorities and recommendations. Each resident or organization serving the community will have the opportunity to provide 2 minute comments.
We are encouraging a high level of community input from residents and stakeholders within the three mile radius of the Live! Casino, on the budget process.
Please help us spread the word about this event, and we look forward to seeing you there!
RSVP to Laura Shaffer, Grants Associate, ACDS