Arundel Community Development Services, Inc. (ACDS) is excited to announce that TMI Contractors has been selected to build the long awaited Severn Center.  The $15.7 million facility, which will include a state of the art County Senior Activity Center, a Boys & Girls Club, and flexible community space, will begin construction this fall and is expected to be completed by early 2023.  Read more about the Severn Center here.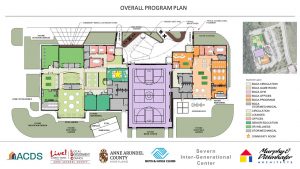 TMI Contractors has been a mainstay in the Baltimore construction marketplace for more than two generations, having performed many high profile projects in Anne Arundel County, most recently the new Anne Arundel County Police Training Academy facility, in addition to the new City of Annapolis Library project.  The firm was selected after a competitive, sealed bid process that received a total of six bids from qualified contractors.  As part of its contract with ACDS,  TMI Contractors will be working with Anne Arundel Workforce Development Corporation (AAWDC) and the Agency of Anne Arundel County Public School's Equity and Accelerated Student Achievement to connect with local businesses and residents from the surrounding communities for subcontracting and employment opportunities.  The new facility was designed by Murphy & Dittenhafer Architects and is being funded by a combination of local, State and federal funds.
The Severn Center Groundbreaking Celebration is scheduled for Friday, November 12, 2021 at the project site, located at 1160 Reece Road, Severn, MD.  The outdoor celebration will begin at 3:00 p.m. with entertainment and music, with the program and groundbreaking ceremony beginning at 4:00 p.m.  Please RSVP to lschaffer@acdsinc.org
To view the event flier in Spanish click here.